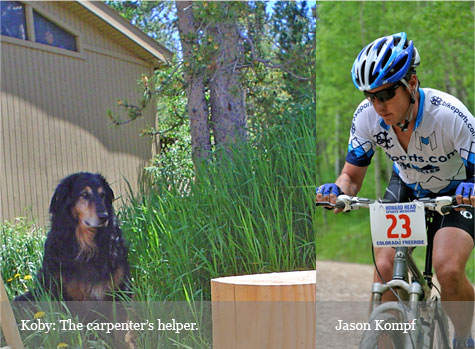 About Jason Kompf
Jason started working at the age of fourteen, performing labor, working on remodels, and performing miscellaneous chores. He went on to study Theatre Design and Production at the University of Cincinnati College Conservatory of Music and earned BA in theatre from New England College in New Hampshire.
Upon moving to Colorado from upstate NY in 1996, Jason performed custom woodwork and built furniture at Over The Top Woodworks in Breckenridge. He then apprenticed at Timmerhus in Boulder, where he learned the art of high end carpentry skills.
In 2002, Jason returned to Summit County and started Antique Design. He now focuses on providing the highest quality work for both contractors and homeowners, performing tasks in all phases of construction from framing to finishing. His clients include homeowners from Hoosier Pass to the Vail Valley and everywhere in between, including all of Summit County.
Jason lives in French Creek (Breckenridge) and is on the French Creek HOA Board of Directors. In his spare time he enjoys mountain biking and skiing.